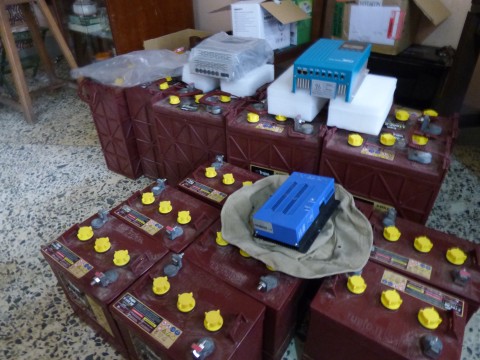 End of Week three in Nigeria
Three weeks in and nothing has happened
After three weeks we have not started installation of any client systems. We planned for all the contingencies possible, but could not plan for what we refer to as the Nigerian factor. We purchased our Inverters and Panels more than a month in advance. The Inverters arrived one week late. Like we told you earlier, we selected a new manufacturer for our panels. Renesola a New York Stock Exchange traded company, agreed to be our supplier. They hired all new people with very little experience with logistics and delivery. The delivery left more than 10 days after it was supposed to. It arrived in Nigeria on November 14th and it is either at the NAHCO shed or with the agent they assigned. We have called the agent she asked for a payment of N360,000. She refuses to give a break down and will not release our documents so that we can clear our panels. So here we are and everything we tried to avoid by paying extra to ship our panels by air is holding us back. Jide Josef must have infected the people who clear stuff.
Today is Thanksgiving Day in America. It will be my first thanksgiving away from the family in over 15 years. I want to wish my friends and family in America a happy thanksgiving day. Save some Turkey and pie for me. We have so much to be thankful for.
Suzette and I did not get our wish of spending our 26th anniversary on top of a roof doing installations. We had a more adventurous trip. The vehicle we rented broke down once we came into Rivers State. A saint and a glorious man Mr. Michael Ukpeh sent his horse / A/K/A SUV navigated by Mr. Simon to the rescue. He treated us to lunch at the Meridien and housed us at Juanita Hotel. It is a beautiful place with the perfect romantic set up. We had dinner out doors and spent some time by the pool. Suzette proclaimed it the best anniversary ever. Thank you Michael, we are forever in your debt.
We have our Inverters, our cables, charge controllers, our accessories and batteries. As we told you in our last post we have adopted the Trojan batteries for our power applications. They tolerate the kind of abuse that renewable energy systems will subject them to. They perform better in hot weather, have very good discharge characteristics and don't require the daily recharging that the sealed batteries need. The failure rate is negligible. The Trojan master dealer in Nigeria will also provide us with our panels. These panels are made in Germany. We have eliminated one more possible bottleneck in our system by going to him. Thank you Solar Shop.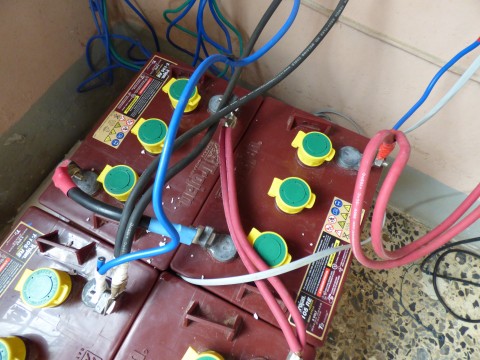 We have been hard at work improving our product offering. Air conditioner lovers and small businesses rejoice. We now offer solutions up to 30 Kva in single and three phases. This for us represents a huge leap forward. We will be installing one such system in Port Harcourt in the immediate future.
Did you spot the errors in the last newsletter? We will have a contest to see who spots the first error. It was a tie the last time. So be the first to spot the errors and get mentioned in the next newsletter.