One year: Living with solar.
Last month we showed you a picture of the hydrometer indicating the state of our batteries. Today we show you another so that you can compare. We have a charge controller that can equalize our cells. We have a full one kw in panels. Today we produced over 3 kw/h by 3 pm. We have seen as much as 4 kw/h from our one kw array. Had to put the TV, fridge and fans on to use our production. Lack of NEPA or fuel never bothered us. We reduced the batteries to 225 AH and it is still working fine.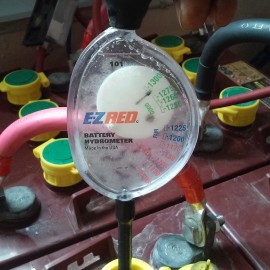 Over 12 months we have had power every day but 4 days (due to a cable failure). As we optimize the system we sacrifice less. The Trojan batteries have been awesome. We have been able to bring them back from near death.