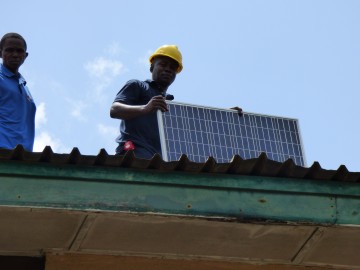 We arrived with the expectation that our systems will be delivered within a week of our arrival. It is one month later and we don't have them. We have stopped believing in the promises are waiting for the good to be delivered. Our Chief Technical Office Astrea Essandoh came in on Wednesday morning from Ghana. We had hoped to start installations on Wednesday evening.
We have been visiting prospective customers and the demand is there. What people need are reliable systems that will work. The reason a lot of the systems are not performing up to expectation is because of substandard installations. Panels installed in an area with shade. Panels not getting direct access to the sun. We have seen so many bad installations but we want to bring you a success story.
We went to visit a home in shogunle, we saw with Solar panels on the roof. The homeowner self installed the system, Everything cost him a little over $13,000 (1.8 million naira).
He has 16 240 W panels 24 2 Volt batteries, 1 6KW Inverter and an outback 50amp MPPT charge controller. He has had the system for 9 months and can be completely off the grid if he chooses to. He can run every thing in his home, washing machine, AC, big refrigerator, Water chiller, his fans and lights. He barely runs the batteries down during the night. One day last week his 3.8KW system produced 3.5 KW. That is impressive when you consider that a system can suffer up to 20% in efficiency losses.
He produces more power than he will ever use.
I have enclosed pictures of his system for you to see.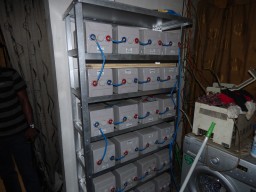 Update: Yesterday 6/23/2014 We took delivery of our systems and started installing. We completed our first at 26 Alasia Village Compound. Tonight we are running on Solar.